X-ray Absorption Fine Structure Combined with Fluorescence Spectrometry for Monitoring Trace Amounts of Lead Adsorption in the Environmental Conditions
Yasuo Izumi, Fumitaka Kiyotaki, Taketoshi Minato, Yoshimi Seida
Anal. Chem., 3819 - 3823, 74(15) (2002).
The local structure of trace amounts of lead in an adsorbent matrix thatwhich contains a high concentration of iron and magnesium (Mg6Fe2(OH)16(CO3)•3H2O) was successfully monitored at the first time by means of X-ray absorption fine structure spectroscopy combined with fluorescence spectrometry. A eutectic mixture of PbCO3 and Pb(OH)2 coagulated when Pb(2+) was adsorbed from a 1.0 ppm aqueous solution, and in contrast, that the major species was ion-exchanged Pb(2+) in the case of adsorption from a 100 ppb aqueous solution. The difference was ascribed to the balance between the precipitation equilibrium for coagulation and the rate of the ion exchange reaction with surface hydroxyl groups.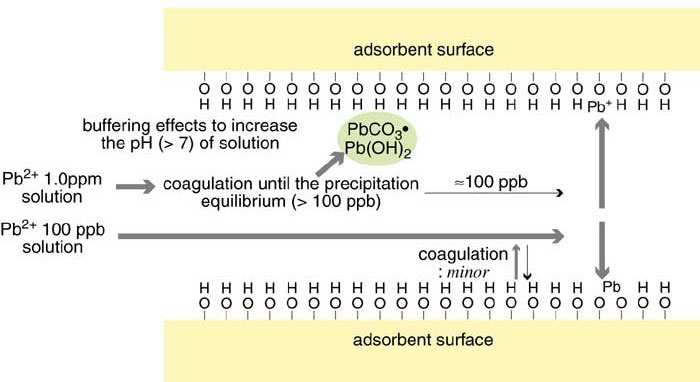 ---
Chiba University > Graduate School of Science > Department of Chemistry > Dr. Yasuo Izumi Group